Boiler Units

Wilkinson mobile boiler units are designed to meet a variety of needs with the least inconvenience to you. Each mobile boiler room has completely self-contained units with all essential elements for operation:
Its own operation area — The entire plant operates from the trailer. No other building is required
A protected work area — Equipment and operators are fully protected from the elements.
Attractive design — Units are designed to blend into their environment so they do not detract from the landscape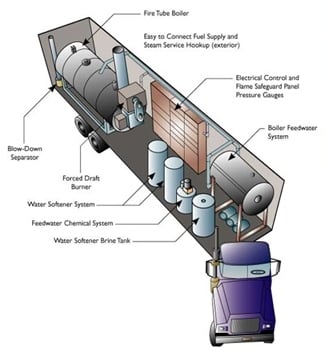 Configurations

Wilkinson Mobile Boilers, Inc. provides a wide range of state-of-the-art, totally self-contained high- and low-pressure steam boilers — from 50 HP to 800 HP firetube boilers and from 25,000 PPH to 120,000 PPH water tube boilers.
Wilkinson also has a fleet of domestic hot water trailers. These trailers utilize the high efficiency Autoflame Combustion Management System that will ensure customer fuel savings as well as minimal carbon emissions. Each unit meets or exceeds all local and federal environmental control and safety requirements.