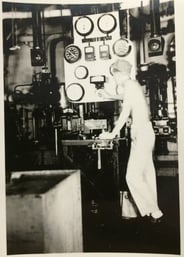 In 1951, George T. Wilkinson started his own heating company, determined to focus on the needs of his customers. As he recalled in the beginning, "I worked seven days a week, sixteen hours a day, and for the first eight years, I didn't take a vacation." As time passed, the company grew, and George's belief in outstanding customer service continued to attract more and more customers.
Taking great pride as a family-run company, George passed the reins to his son, Geoff. Under Geoff's stewardship, the company greatly increased in size and scope, setting the course to becoming a leading name in the industry today. Like his father, Geoff insisted that quality customer service remain an absolute priority, and he worked tirelessly to maintain high standards in every aspect of the business. As the industry progressed, Geoff realized that the rental of mobile boilers was a growing need, and in 1988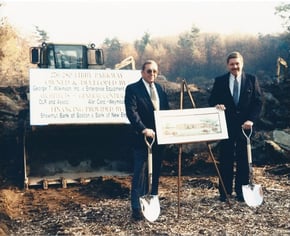 he started Wilkinson Mobile Boilers to fill this demand for current and future customers. Always looking ahead to the latest advancements and technologies, Geoff was also the first person to install a linkageless combustion control system in the United States; a risk that has paid great dividends to many customers.
Today, the third generation of the Wilkinson family is at the helm, as Geoffrey C. Wilkinson, Jr. continues the proud tradition of his father and grandfather. Geoff Jr. oversees a growing operation, providing a diverse list of customers with an optimum level of expertise and service to keep a business or an organization up and running. With three generation of personal pride and integrity, George T. Wilkinson, Inc. remains a respected name in the New England heating industry with a fully staffed office and a fleet of trucks and vans. But it has not strayed from its roots. The company still retains some of its original customers that were served by George Wilkinson when he started the company. In the words of George, who passed away in 2014, "We've kept our base. We develop a repeat business by doing a little bit extra. The more satisfied customers we have, the more we gain."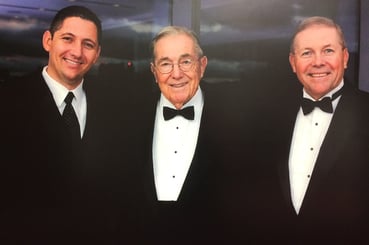 Geoff Jr., George, Geoff Sr.